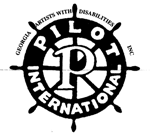 Georgia Artists with DisAbilities, Inc. was founded by the Pilot Clubs of Metropolitan Atlanta in 1985, enabling disabled artists throughout Georgia with the opportunity to display and sell their original art, as well as being eligible to compete for awards. Based on the awards given, artists may also have the opportunity to have their artwork displayed in a statewide tour and exhibit.

Many mediums of artwork are included in the show, such as pottery, painting, sculpture, woodcarving, photography, weaving, and others.

As GAWD begins making plans for the future, we continue to focus on our theme from our very first year - "Visions and Dreams, Tomorrow's Reality." Our main goal over the years has been to identify those disabled citizens of Georgia who are creative, capable, and talented in the arts, so that their achievements and talents can be recognized. There are many disabled artists in Georgia who have visions and dreams, but have no way of making it a reality. We help make it a reality for them.

Recently, the parent of one of our new artists made this statement. "Oh, how I wish my son had known about GAWD before now. "Do you know someone like this in your community?
The 2022 Georgia Artists with DisAbilities 2022 Virtual Art Show Slide presentation.
The 2021 Georgia Artists with DisAbilities 2021 Virtual Art Show Slide presentation.
The 2021 Georgia Artists with DisAbilities 2021 Virtual Art Show.
The 2019-2020 Georgia Artists with DisAbilities Touring Exhibit.
The exhibit was to be on display in the Millie Wilcox Gallery in the Historic Ritz Theatre May 1 - 29, 2020. Due to COVID-19, the exhibit could not continue its statewide tour. Golden Isles Arts & Humanities is pleased to be able to present the exhibit via video. GAWD was honored by this kindness.
The call for volunteers: We would like to invite you to be a volunteer for our Art Exhibition. If this interests you, Please click on tab WHAT IT MEANS or click on the link for more information. Help us help others!
2019 Memories and Acknowledgements
2019 Awards Slide Presentation & 35th Year Anniversary
2018 Awards Slide Presentation & 34th Year Anniversary
2017 Awards Slide Presentation & 33rd Year Anniversary